The Victorian Era Fort
Fort Takapuna was built between 1886 and 1889. It is what is called a "Russian Scare' fort, because when it was built it was feared that Russian warships might attack New Zealand. It was designed by a Royal Artillery Officer, Major Tudor Boddam. Fort Takapuna was armed, originally, with two 6 inch disappearing guns & two Quick Firing Nordenfelt guns. These guns defended the approaches to the port from the Rangitoto Channel.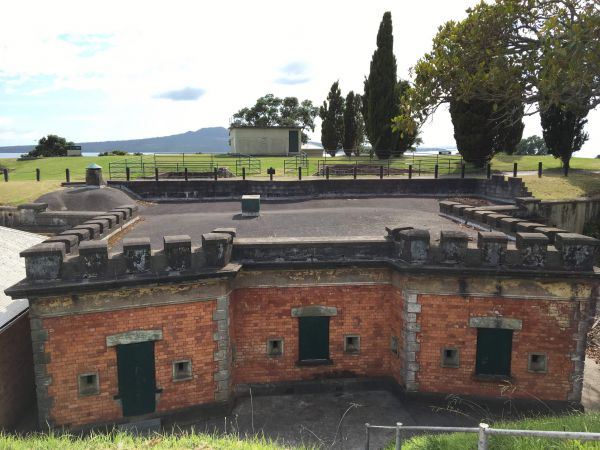 The brick building with with the battlements was the barracks where the soldiers lived. When it was first built there was a deep ditch all around it. Originally this ditch went all the way to the cliffs on either side. It was filled in about 100 years ago and only the small part in front of the barracks remains. Behind the barracks there is a network of underground tunnels & magazines for ammunition storage.
In 1922 the guns were declared too old to be of use and in 1926-27 the old fort was converted into an area for storing naval ammunition's. The guns were removed and the gun pits roofed over to provide extra storage space. Hundreds of tons of ammunition, which belonged to the two cruisers stationed by the British Admiralty in New Zealand waters, were stored here until 1937 when the new Naval Armament Depot was built at Kauri Point.
World War 2 Harbour Defences
Anti Submarine Fixed Defence Station
Takapuna Control Hut - 'Puna'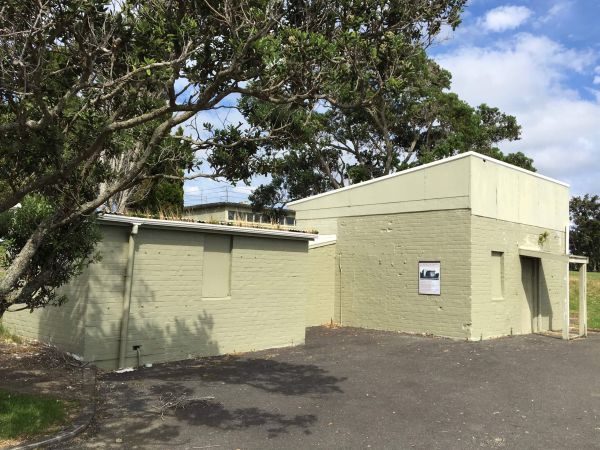 This building housed the shore end of the electronic equipment used to detect enemy ships approaching Auckland Harbour during the Second World War. The building has been altered since the war, losing its bay window & gaining a new roof line.
These added to defences provided by the guns, searchlights & minefields. Three types of devices were operated from this hut & was operated by the Navy:
Indicator loops were laid on the seabed to detect the steel hulls of ships.
Hydrophones 'listened' for the sound of ships passing.
ASDIC (Sonar) arrays sent out an electronic 'ping' which bounced off the hulls of ships & submarines, giving their location.
Photos
Some pics snapped while going for a leisurely walk at Fort Takapuna. These photos ranked well on Google for various search terms & are now currently featured on the
Heritage New Zealand
Crown Website.
---